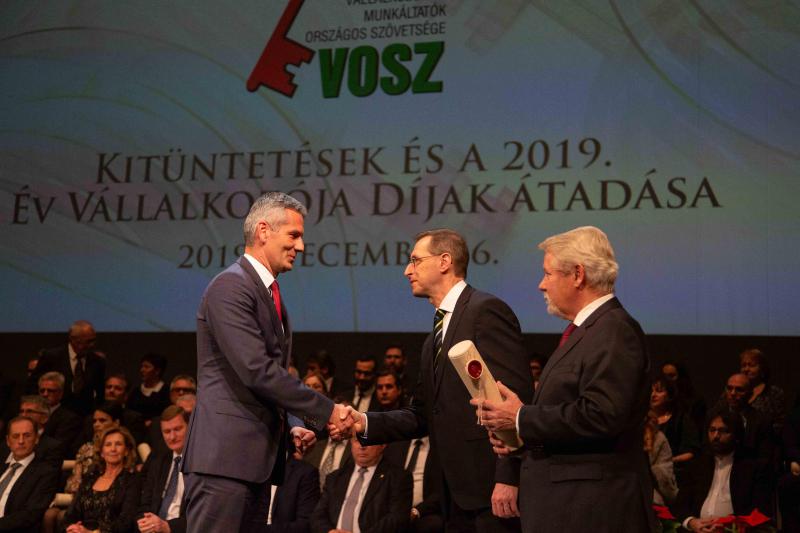 On December 6, 2019, the National Association of Entrepreneurs and Employers (VOSZ) organized the Entrepreneurs Day for the twenty-first time. In addition to state and ministry awards, the most successful entrepreneurs received the "Entrepreneur of the Year" award based on the suggestions of the regional organizations, the national professional sections, the bodies of the associate federations and the decision of the VOSZ board. Among them, you can find this year our CEO, for the outstanding results that have been achieved by Controlsoft Kft.
Mihály Varga, Minister of Finance and Tibor Tolnay, President of VOS, handed over the prestigious awards within the framework of a ceremony that was held in the Palace of Arts, before the Prima Primissima awards ceremony.
Within a year, this is the third award that our company has received (Research, Development and Innovation Award, Innovation Grand Prize), which rewarded our work that we had accomplished over the past decades.
This is the outcome of a lot of teamwork, and as a result of which we can say today the following:
In Hungary, in the field of water supply and wastewater management, every second person is in a 24-hour contact with such process control systems that were implemented by our company.
In the last 12 months, our lighting control system assisted the safe take-off and landing of more than 18 million people and the staff of the ground traffic control at Liszt Ferenc International Airport in Budapest.
Our ground generator-based hail damage repelling system not only reduces the hail damage related agricultural expenses by more than 10 billion HUF but it also shields our properties, vehicles and gardens as an umbrella.
Our self-developed target machines enable the fast and efficient packaging and sorting of goods that worth hundreds of billions of HUF in order to reach customers all over Europe as fast as possible.
We are currently automating the manufacturing of insulated electrified rails that will be used in the data centres of Google, Amazon and Microsoft.
We have references in 10 countries in three continents.
More than 25 years of experience! More than 2.500 successfully completed projects.

A big thanks to everyone! To our colleagues because without them we could have never achieved our success and to our customers for having confidence in us.